Instant Hot Water Dispensers
Wouldn't it be nice to have hot water at just the right temperature instantly available for a cup of cocoa, coffee or tea?
The perfect drinking temperature is always on tap when you install an instant hot water dispenser. Units are installed out of sight under the sink or counter and water is easily accessed with a compact faucet mounted on your sink. Give the tea kettle a rest and save time and money with this exceptional convenience!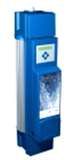 UV Water Filters Out Disease-Causing Bacteria
UltraViolet (UV) light has long been used by hospitals for sterilization and has become increasingly popular for removing airborne viruses, bacteria and other contaminants from breathing air as it passes through circulation systems. But, did you know this clean, effective technology is also available for removing microscopic traces of disease-causing bacteria, viruses, algae, fungi and protozoa commonly found in water? The UV process disinfects water, preventing living organisms from reproducing, where other types of filtration simply remove undesirable non-living contaminants. Ask us about it.