Aquia® Dual Flush, 1.6 GPF / 0.9 GPF
---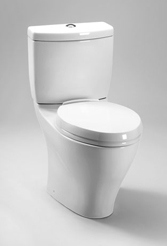 Features:
Elongated skirted design, two piece toilet.

Dual-Max® Flushing System.

Push button style flush option.

Upgrade with an Oval SoftClose® seat.

Large, 2-1/8" fully glazed trapway.
Decorative, high profile two piece toilet. Dual flush (1.6 GPF / 0.9 GPF) performance option to allow apporiate water usage.

Tank cover, fittings, chrome plated push button, less seat.