Choosing a Qualified HVAC / Plumbing Company can help protect your investment and should be a simple process.
Unfortunately, most people don't know what to look for when searching for a good contractor in install or service their equipment. Whether you need a simple repair, a new heating system, air conditioning installation, or building a new home, it is important to find a contractor that you can trust to provide quality work and reliable service. Every home depends on the reliability of their plumbing/ HVAC systems and a reliable contractor is an integral part of your indoor comfort throughout the whole year.
Don't be embarrassed to ask for references when looking for a right contractor!
Before you hire a contractor make certain their business address and phone number is listed in the local directory. Having a physical address is probably a reliable indicator of an established business. Reputable companies should provide any necessary contact information. If a contractor does not have a physical address or contact information, you have no way of being sure they will be around should you need warranty repairs done on the equipment they installed.
Don't be afraid to ask for proof of insurance! When a contractor is doing work in your home, and someone gets hurt, it could fall back to your insurance company if the contractor does not have the proper insurance. Ask for proof of their worker's compensation and liability insurance! Don't take a chance just because the price is lower from a contractor that does not have insurance!
You don't need to accept the first bid that you receive and should take your time to compare all of them. Don't simply accept the lowest bid because it seems to be the cheapest. Find out how the lowest bidder was able to make such a low bid. Your plumbing and HVAC is no place to cut corners, but still want to spend your money wisely and get the best value. When comparing quotes remember to compare "apples to apples"
You need to hire a reliable contractor when it comes to installing a new system or perform work on your existing equipment and one that you can find the next year when you need service. With Smalls Plumbing, Heating and AC, we have been in Sullivan County since 1953, and will be here for your needs for years to come. Your HVAC contractor will be knowledgeable about his profession and will proudly explain to the homeowner what they are doing while serving the equipment. You should choose the quote that provided you with the best system and service for your money.
Get it in ink — Sign a written proposal with a contractor before work gets started. It'll protect you by specifying project costs, model numbers, job schedule and warranty information.
Our longevity in the plumbing and HVAC business speaks for itself. We have solved heating and cooling problems and satisfied customers before many of our competitors began their business... and will continuity to satisfy Sullivan County customers long after many of then will go out of business. Don't compare contractors based solely on their rates. Make sure you know all the costs involved, many companies have lower advertised rates, but make sure you are fully aware of the real rates, so you are informed when you hire your next plumber or HVAC contractor.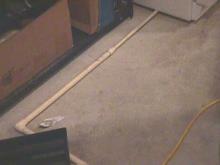 When to Do it Yourself - When Not To !!
We all watch those home improvement shows ( at least those who admit it!)
We all go into the big box stores, and think we can do it, they can help! So we make the purchase and go home.. Only to find out that there are still some materials needed that did not come with our purchase.. No big Deal, we get back in the car and go back to the store.. Then there is no instructions on how to remove the old item that we are replacing.. how come they can just rip it out on TV? Should I buy that special tool that I will only use this one time? It's only a hundred bucks! I'll have it around for next time.. How do you remove that rusted, frozen nut? I'm just running a few pipes, what difference does it make if is up to building code? Building code, What does that mean?? When a product needs to be replaced under warranty, who is going to take care of that for you? How come my new toilet did not come with new bolts to attach it??
Of course, saving money is usually the motivation to do it yourself, but many times that concept will backfire on you, having started a project and then having to call us to repair not only what you didn't finish, but sometimes to redo what was done incorrectly.